Today we started packing our bags. Now as you could have been reading in earlier articles, people started asking us WHAT we were going to take and especially HOW.
As we did not really know the answer to those questions neither (except for some general ideas like "not too heavy" and "not too big") we decided to put all the basic stuff we wanted to take together and have a look at the result.
Then it is also very important to look at "personal stuff" each of us wanted to take: Vera being more of a sweet-ache, wishing to take Nutella, candy, chocolate and a bottle of Martinti and Jean-Christophe as a real French would not leave the country without a good bottle of wine, cheese and sausages (did anybody notice the presence of a laptop? Anybody still convinced that my boyfriend is not a geek?).
So if you make a simple count, you will quickly see that all this is not going to fit into our backpack.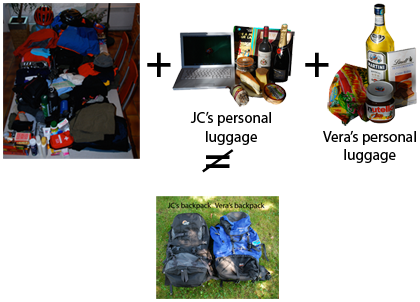 So we took things out in order to fit everything in.

Result: 11 kg for each of us and a sparkle of hope that we might be able to find some good cheese and some Nutella in Russia.

Vera & Jean-Christophe